Put your suimsuit on and live the most exciting water frenzy experience in Greece!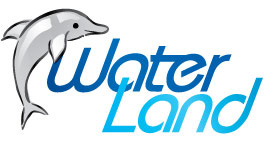 Come with your friends, come with your family, come with your sweetheart, but make sure you won't miss the opportunity to pump up adrenaline and fun in the the most amusing waterpark in Europe! In Waterland there are a million things to discover and experience.
In Waterland your safety comes first. All attractions, pools and games are scrupulously checked according to the highest health and safety standards. Waterland is a member of the World Waterpark Association
Life is waterful!
Welcome to the most exciting, water frenzy waterpark in Europe! Get ready to enjoy pools, slides, games and dozens of amazing attractions for all ages. Waterland is one of the largest waterparks in Europe with an area 150.000 m2 powered up for pure water fun!